A FRANCHISE THAT DELIVERS
Range from $202,500 to $460,200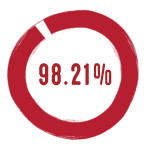 Average Gross Sales Related to Pick-Up, Delivery, or Catering*
Average Gross Sales per Guest Check*
Average Gross Sales per sq. ft.*
$1,322,690.71 and 30.91%*
Once you qualify and become a Fajita Pete's® franchisee, we put great effort into teaching you the Fajita Pete's® system. Because the success of your franchise is mainly dependent on how well you follow our system, we are committed to you every step of the way. Our proven system of operation will give you the edge necessary to create a thriving business.
Site Selection and Lease Negotiations
We provide professional, data-driven assistance in helping to locate and identify suitable Fajita Pete's® locations for you.
Restaurant Design and Construction
Based on our prototype, complete sets of custom floor plans are developed for each location that prioritize creating proper customer traffic flow, seating, efficient work areas, and storage.
Training and Operations Manual
You will be well on your way to becoming a Fajita Pete's® ninja over the course of our multi-week, in-person, on-site training.